Coupe vs. Sedan: What's the Difference?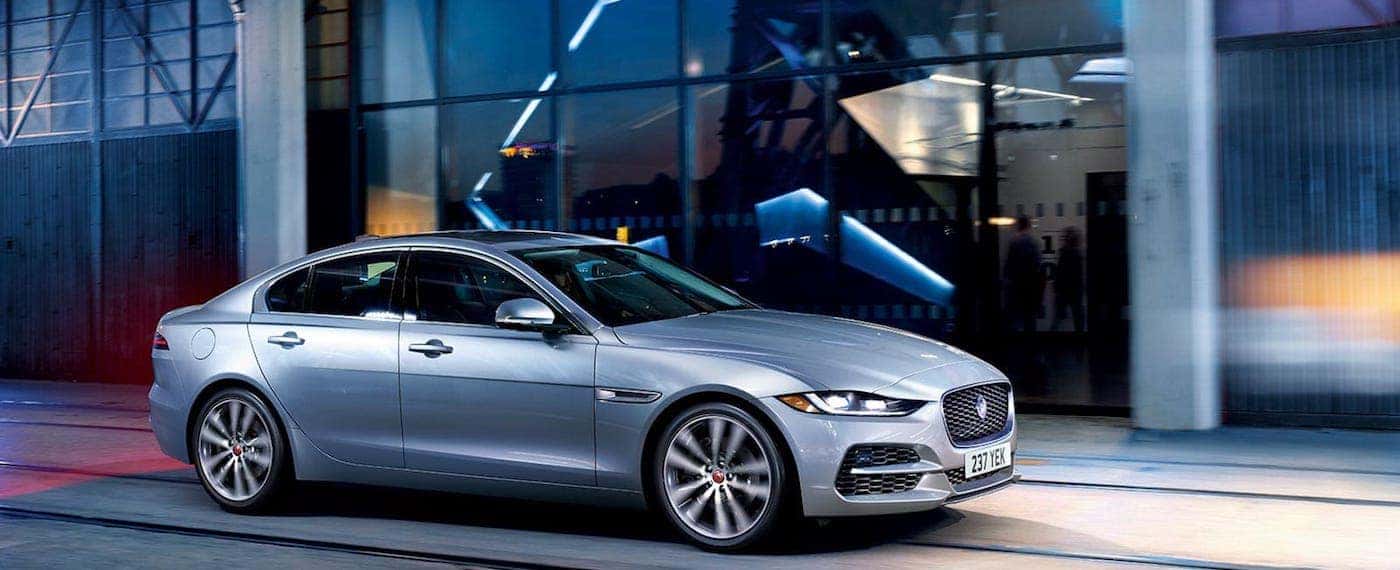 If you are shopping for your next luxury car in Fort Mitchell, KY or Mason, you'll have a choice between body styles like coupes and sedans. In general, coupes have two doors, while sedans have four doors, but there are even more differences besides door count between these two types that can help you decide whether a coupe or sedan is right for you. Learn more with Jaguar Cincinnati!
Difference Between Coupe and Sedan
Below are the main differences between coupes and sedans, which may affect your decision when choosing your next car.
Door Count: The most immediate difference between the coupe vs. sedan is the door count. Coupes come with two doors and sedans come with four doors.
Exterior Style: The shorter stature of the coupe results in styling adjustments that include longer doors and longer rear windows, which provide an overall sportier look and better aerodynamics. Sedans, on the other hand, tend to emphasize luxury styling, and the shorter doors and higher stance provide a balanced side profile.
Cargo Space: Sedans are longer by design so they naturally offer more cargo space. If cargo space is a priority, a coupe may not be the way to go.
Interior Space: Sedans typically offer seating for five, ample head and legroom, and more space for rear passengers than coupes. Coupes may not have a second row of seats at all, but if they do, the two or three seats in the back will be a little bit cramped for adults. The rear seat is a little less convenient to access, since you have to go through one of the front doors.
Performance: The smaller size of a coupe lends itself to a sportier performance thanks to the decreased size and weight. Sedans often compensate for their larger weight and size with additional engine options and suspension upgrades.
Sedan vs. Coupe: Which is for Me?
Sedans like the Jaguar XE, XJ, and XF models are better if you need more cargo space, and if you frequently drive with more than one other person, because the rear seat in a coupe (if they have a rear seat at all) will be a tight fit for adults. It's also recommended if you are driving people with less mobility, as it is easier to get into the passenger seats.
If you want a car with sporty handling and the sheer joy of driving, and don't plan on using it for carpooling, then a Jaguar F-TYPE coupe may be the right vehicle for you. Make sure you look at the features across both models so you know you are getting what you need.
Test Drive a Coupe or Sedan at Jaguar Cincinnati
Compare coupes like the Jaguar F-TYPE vs. BMW M2 to see what the luxury coupe market is like today, or learn more about who manufactures Jaguar models. Browse our inventory to find a new Jaguar for sale near Lexington, KY in your favorite style with all the features you want. Then contact your local authorized Jaguar retailer to schedule a test drive and see the differences in person.
More From Jaguar Cincinnati
If you're in the market for a new luxury SUV, take a look at the E-PACE by Jaguar. Cincinnati drivers love its agile handling, stylish appearance, and comfortable interior. Standard features include all-round exterior LED lighting, state-of-the-art driver assistance systems to improve safety, and innovative technology to enhance audiovisual infotainment. Jaguar Cincinnati brings you this guide…

The customers who come into Jaguar Cincinnati in Cincinnati love their Jaguar F-TYPE coupes and convertibles. But that doesn't mean that every Jaguar F-TYPE driver is the same. Some like the sporty good looks of the F-TYPE Checkered Flag, and others like the raw power and luxury of the F-TYPE SVR. Whatever Jaguar F-TYPE trim level, you are…

The 2020 Jaguar F-PACE offers seating for up to five passengers. You'll also find a wide range of comfort features and technologies inside this luxury SUV to make the drive more enjoyable from any seat. Learn more about F-PACE seating, Jaguar F-PACE dimensions, and more at Jaguar Cincinnati, your local authorized Jaguar retailer. Then contact us…