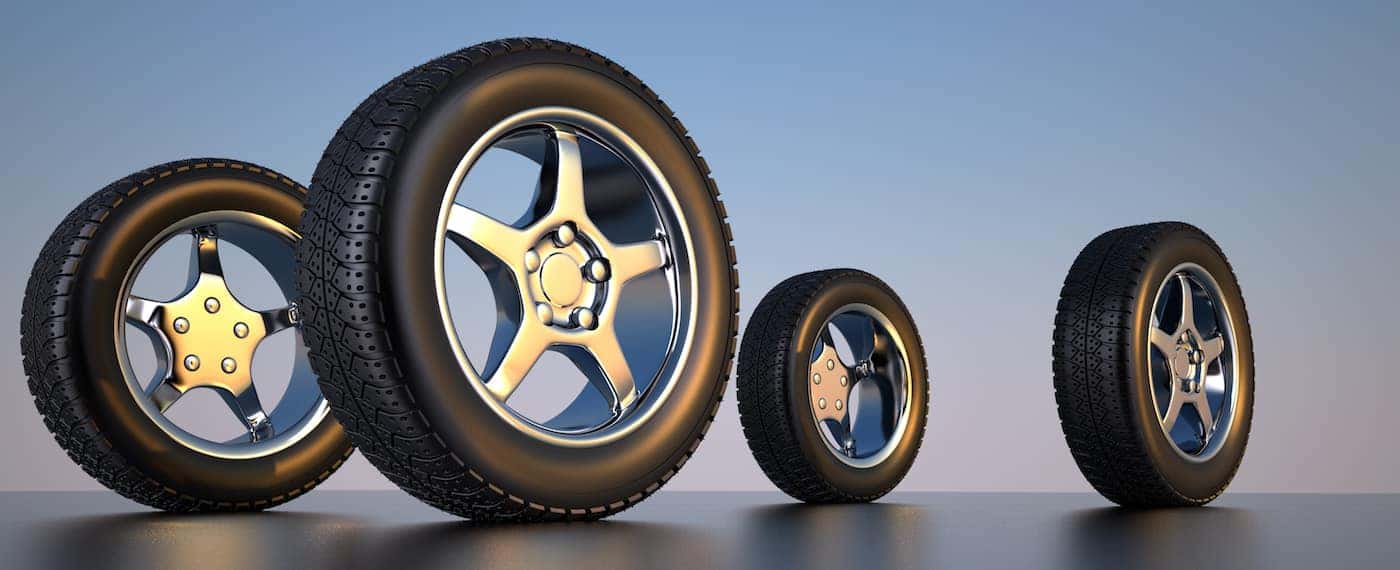 When to rotate tires can vary depending on your vehicle's drivetrain, road surfaces, and driving habits, but the general rule is to rotate them every 5,000 to 7,500 miles. Always check your owner's manual model-specific information, and in the meantime, learn about tire rotation patterns and more below, and contact the Jaguar service center near Mason if you have any questions!
Why Is Tire Rotation Important?
Keep tire rotations as part of your regular maintenance plan in order to extend the life of your tires on Fort Mitchell, KY roads. Additional benefits to tire rotation include:
Relieves unnecessary stress on the drivetrain
Improves traction on slippery roads
Reduces road noise in the cabin
If you take your vehicle in for service, Jaguar-certified technicians can inspect the tires to determine if rotation or replacement is needed. If the tire tread depth is under 2/32 of an inch, you may need to fully replace the tire.
Rotating Tires on FWD and RWD Vehicles
For FWD or RWD cars, tire rotation needs to be performed every 5,000 to 7,500 miles, but the tire rotation pattern will be different for front and rear-wheel drive models.
Front-wheel drive tire rotation:
On a front-wheel drive car, power is sent to the front wheels, which means the front tires are responsible for producing forward motion, enduring the most friction and wearing down faster.
Flip sides when moving the rear tires to the front. For example, the rear right tire will go on the front left side. However, when moving the front tires to the back, keep them on the same side.
Rear-wheel drive tire rotation:
On a rear-wheel drive car, the rear tires endure the most friction and will wear down faster.
Invert the process of front-wheel drive rotation–flip sides when moving the front tires to the back, but keep the rear tires on the same side when moving them forward.
Rotating Tires on AWD Vehicles
How many miles to rotate tires on an AWD model? Most experts set the standard timeline at 3,000 to 5,000 miles. The rotation interval, as well as the rotation pattern, differs from FWD and RWD drivetrains, since each tire is responsible for forward motion at different times. This is especially true for intelligent all-wheel drive systems.
Get Your Tire Advice From Jaguar Cincinnati
When it's time for a tire rotation in Lexington, KY, schedule service at Jaguar Cincinnati. Talk with the service experts at Jaguar Cincinnati to get a better idea of a maintenance schedule that fits your driving habits. Rely on Jaguar Cincinnati for all your service needs, and find out how you can save on your next visit with our service specials near Lexington, KY!